My life as an independent escort!
Melinda, a 29-year-old Edinburgh escort, has offered us a unique interview with some of the most astonishing things she has gone through as a professional escort. She has shared with us some of her deepest secrets…
…therefore we strongly recommend this interview as one worth reading. Enjoy and leave us your comments and impressions down bellow!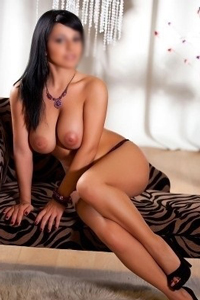 Q: Could you tell us something about yourself? What are your hobbies and interests?
A: Well, you can simply call me Melinda and I believe about myself that I'm a woman who enjoys life more than anything else. I want to savor every second of it, both with its happy and with its sad moments. They are all part of the circle of life!
In what concerns my hobbies I do all sorts of stuff, but most of all I like to sing. I sing all the time, irrespective of the place and time! Nothing matters more to me than singing! That's who I am!
Q: Mention three perfect gift ideas.
A: As all girls love it, I like chocolate too, so everything including chocolate is perfect for me. The second gift that I would personally enjoy to receive would be flowers. Many, many flowers! I simply would not see how life would be without flowers and jewelry! Yes, this is the third one – jewelry! Every woman should have what to wear taking into account her everyday outfit. It is important you know? It is your personal touch!
Q: What would be the perfect date like?
A: Hmm, this one is a tricky question! But, if you insist on choosing only one perfect scenario of a date, it would definitely be a romantic dinner on the beach. I do not know the reason why, but I simply adore having long walks on the beach, while hearing the sound of the waves. Yeah, without a doubt this would be number one for me!
Q: What do you appreciate most about your job?
A: First and foremost, I enjoy the independence that this job offers me. Moreover, I can afford everything that I have ever dreamt of, but I also love the fact that I am a free woman. No headaches, no boss, no nothing! I can wake up at any hour of the morning without the fear that I am late for work!
Q: Do your friends and family know what you do for a living?
A: Yes of course they know! I do not hide anything from them! I do not have any reasons to do this! I'm not ashamed or anything like that and neither are they! No one should be! This job is like any other job, you just have to go and do your best!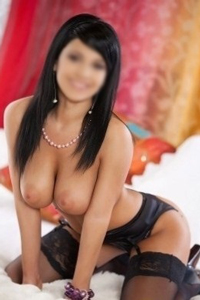 Q: Could you tell us a bit about your first escort job?
A: Yikes! Yes, it was a long time ago though. What can I say, it was a bit of a mess, I didn't know what to do at first, but then it all went smoothly, naturally. After my first date I knew I was the perfect candidate for this type of job. It suited me perfectly!
Q: How much time do you spend preparing for a date?
A: It depends on my client's demands, if he has special requests or not. The location is important, the type of event, the plans he has with me. I have to dress appropriately so I usually need to know some details in advance. But otherwise, I just take a dress, something comfortable, I put a little bit of makeup and this is it. Off I go!
Q: What qualities does someone need to possess in order to become a successful escort?
A: Well, everything is important, starting with the physical beauty, the intelligence but also the availability. You need to be available for your clients, if this can be named a quality.
Q: What is your daily schedule like? How often do you work per week?
A: It depends. As I said before no week is similar to the other. It depends on how many dates I have during one week. Sometimes, each day I have something to do; some other times, on the contrary, I have no dates at all for a couple of days in a row. It is a domain where everything varies greatly.
When I have the day off, I enjoy spending time in bed and eating ice cream. I do the usual stuff, nothing out of the ordinary. When I get home very late from a date, as you can imagine I am tired so I spend the rest of the day sleeping. However, when I know I have a date planned for the evening I try to get myself together and please my client. I spend some time in front of the mirror and this is it. Magic really happens!
Q: Describe the best and the worst call-girl experience.
A: The best one for me was when I met an outstanding gentleman, who by the way is one of my closest friends nowadays. He made the date perfect for me and this is all that matters. We went for some shopping, to see a movie and we really had a great time together.
Unfortunately, like all girls, I had some bad experiences too. Once, a client of mine had some awkward ideas. He wanted me to shit on his face. I tried but I certainly haven't pleased him. Now that I'm thinking of this, it was also a bit funny.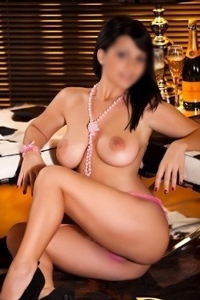 Q: Do you have a list with regular clients? If yes, do you see them more often than new clients?
A: Of course, that I have a list with regular clients. Everybody has one! I have eight gentlemen who call me often. Sometimes just to chat and see if I am OK. I usually date these guys more often, it's true! They are my special ones!
Q: Have you ever fallen in love with one of your clients? Have you ever been jealous of your regular clients or felt 'cheated'? If so, what did you do?
A: No! This one is among the biggest mistakes that an escort could do – getting in love or being jealous. I have never been in love with any of my clients, and honestly I do not intend on getting there.
Q: What do you prefer: incall or outcall services?
A: They both suit me. I love traveling so I would say I prefer outcalls, but not necessarily. Incalls also have their own advantages!
Q: What sort of client do you want to see again?
A: Well, I appreciate those who are romantic and prepare in advance for the date with me. They make me feel like I am their princess and they spoil me, so probably this is the reason why I personally enjoy this type of men.
Q: Where do you see yourself in 10 years?
A: Hmm, I do not know the answer for this question. I do not know what I'm doing tomorrow, so I would not know how to answer this type of question. I hate plans; I believe in destiny and going with the flow!