Page – A high class escort ready to fulfill your fantasies!
Do you want to take a closer look into the word of professional escorts? Well, then you are in the right place. We hereby present you, a remarkable woman, who makes any man turn his head…
… and have a crush on her. Besides her astonishing beauty, her overwhelming intelligence and her extraordinary character, she is also known to be one of the most professional ones in town. You do not have to take my word for this, just take your time and read our interview!
Interview with Page, an independent call girl
'Once you've met me, you'll forever miss my lips!' (Page, Independent escort, 27, Edinburgh)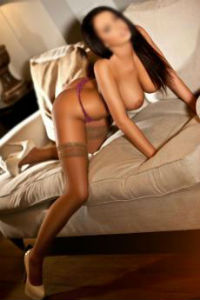 Q: Could you tell us something about yourself? What are your hobbies and interests?
Hello, MyNaughtyScotland! My name is Page and I am a 27 year-old independent escort, currently living in Edinburgh! I believe about myself that I am a hard-working woman, who gets what she wants each time she has something on her mind.
With respect to my hobbies, I like to read; I enjoy reading quality books. Everywhere I go I have in my purse a good book that shall keep me company if I somehow get bored.
Moreover, I also enjoy long walks; this is another way of disconnecting my mind from everything else. And you know what? It actually works!
Q: Mention three perfect gift ideas.
You might have already guessed one of these three gifts: a good book, probably a historical novel. This particular type of books I most enjoy. Odd isn't it? I know this is my life!
The second gift I would appreciate would be a relaxing holiday, somewhere far away from the daily monotony. Hawaii is my favorite!
And the third one, hmm, I don't know. The fact is that I have everything I want so… let me say I like surprises. The third one is a surprise gift!
Q: What would be the perfect date like?
It should definitely be mesmerizing. You know, I don't get that easily impressed, so you should definitely make some serious efforts.
I see the perfect date on a tropical island, far away from civilization and with a lot of exotic fruits. Yes, this would definitely be the perfect date for me!
Q: What do you appreciate most about your job?
I would say the fact that I have the chance to meet so many types of persons, not to mention the freedom that this job also implies. I am a sociable person so this is my perfect job; the job that makes me feel that I am not actually working.
Q: Do your friends and family know what you do for a living?
In a way they know about my profession; I had to tell my mom about it, because she was constantly asking me about this subject. After so many years they've got accustomed to it, but at the beginning it was not something pleasant. It was not easy, but this was the reality, she had to accept it. There was no other way!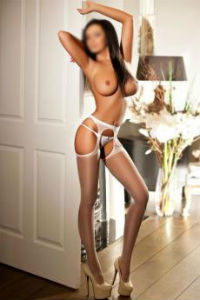 Q: Could you tell us a bit about your first escort job?
It was kinda odd. I pictured it totally different, so I was not at all prepared for what this profession really meant. But, as I already told you, I am a lucky woman, so my first client actually taught me what to do. It was very kind of him. He is still my client, can you believe this? We have a strong connection, and there is no wonder why!
Q: How much time do you spend preparing for a date?
Well, we have to be honest, at least once – a lot! There are so many out there who say they do nothing special when they have a date, but this is not at all true. We have to prepare our outfit, our make-up! Everything has to be perfect! So, yeah, I have to admit, I spend a couple of hours preparing. But, I believe it is worth it! This is my job, you know?
Q: What qualities does someone need to possess in order to become a successful escort?
Nothing in particular; you just need the time and the will to do this. From my humble opinion everything else comes naturally. Not every man is particularly interested in your exterior beauty, so do not hesitate if you have this complex. You have no reason, believe me! Other qualities are also important, such as intelligence, charisma or humor. If you have at least one of these qualities, then you are perfect for this job! Don't worry!
Q: What is your daily schedule like? How often do you work per week?
Well, I often chose to work only six months a year. The rest of the year is my personal time; the time when I travel, I visit, I have fun and relax. Yes, I know I am very lucky. I have already told you, I have the best job in the world!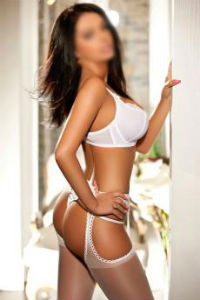 Q: Describe the best and the worst call-girl experience.
The worst experience: my client treated me like a sexual toy. He showed me no respect, and he was definitely rude. But, I did my job and then I simply walked away. This is life and we don't have how to avoid these situations!
The best experience: I've met my husband. He was one of my clients and this is how we've met. We felt something different and since then we are together. It is undoubtedly the best thing that happened during my escort life.
Q: Do you have a list with regular clients? If yes, do you see them more often than new clients?
Yes, I have regular clients. I see them as often as they call me; this doesn't depend on me, but a fact is true – the list doesn't stop getting bigger and bigger!
Q: Have you ever fallen in love with one of your clients? Have you ever been jealous of your regular clients or felt 'cheated'? If so, what did you do?
The only time I fell in love with one of my clients, was with my husband. He insisted on seeing me often, so something magical happened at that time. Apart from this, nothing else happened. I am not a jealous person and I believe possessiveness has nothing to do with this job. I have no reason to feel cheated!
Q: What do you prefer: incall or outcall services?
I honestly prefer incall services, because I have the chance to spend more time with my family and my friends. My family is everything for me, therefore I make all necessary sacrifices to be with them.
Q: What sort of client do you want to see again?
I like that type of client who values me for what I am. I like gentlemen who enjoys life and wants to have fun. I believe I have all that it takes to satisfy those types of men so therefore we are more likely to be compatible.
Q: Where do you see yourself in 10 years?
If you have pre-established personal and professional boundaries then I find no reason why not continue this profession till I get bored. So, I would say in ten years time I find myself doing exactly the same things I do now. I love my job and nothing can make me not do it anymore!