Life is unpredictable
Linnea is a 27-year-old Glasgow independent escort who believes life is a beautiful struggle to achieve satisfaction. Her life had both ups and downs, but she considers herself successful…
…for being able to take risks and face everyday challenges. Let's find out together what risks escorts have to assume.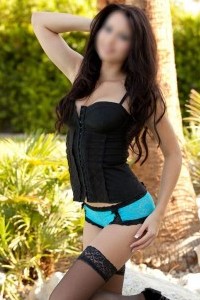 Q: Could you tell us something about yourself? What are your hobbies and interests?
Hi, my name is Linnea and I am a Glasgow independent escort. My biggest hobby and my biggest interest is my job, because I love what I do, and what I devote most of my time to is dating clients. I work a lot, which leaves me no free time for other additional hobbies. However, when I do find a bit of spare time, I like spending it with my friends.
Q: Mention three perfect gift ideas.
I don't know what to say, let me think! Jewelries, clothes and shoes. I think these three categories kind of sum up my preferences. However, it is the intention of the person who makes you a gift that counts, not the type of gift. If the gift comes from a person who cares about me, even a dead rat would make me happy.
Q: What would be the perfect date like?
Hm, it's hard to describe the perfect date. Every date is perfect as long as both persons who date want to have their best meeting ever! The perfect date I have ever had was last summer, on the beach, with a hot lifeguard. Uh, he made me so horny! The chemistry between us was enough to assure us both with the memory of 'a perfect moment'.
Q: What do you appreciate the most about your job?
The freedom. I can get to do whatever I want, whenever I want, with whom I want. Being an independent escort gives me the chance of working only when I can, and dating only the clients I like. I do not have a predefined schedule, so if something serious comes up, I can cancel my meeting and reschedule it. However, this is something I do very rarely.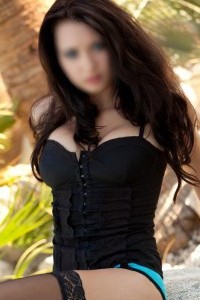 Q: Do your friends and family know what you do for a living?
I preferred to keep it secret, because my family has a religious background and they would never understand my decision. If they found out, they would put me in a cell and never let me get out again, believe me. In case somebody tells them about my job and they ever find out that I keep men company, they will certainly kill me. As for my friends, I preferred not to tell them either, because I learnt that no one is to be trusted in life, and you can never know when someone harms you by telling the people you love the truth about you.
Q: Could you tell us a bit about your first escort job?
I do not remember much, because it's been almost 6 years since then. All I can remember is that I was nervous and excited in the same time, and because I had no experience with guys, I fell in love with my first client, who never called me again.
Q: How much time do you spend preparing for a date?
It takes me up to four hours to get ready, including the shower. Only my make-up lasts up to one hour and a half, and the rest of the time goes on choosing the best outfit for the date, and making my hair.
Q: What qualities does someone need to possess in order to become a successful escort?
First of all, it takes a perfect motivation. If you do not keep yourself motivated by the advantages provided by this job, you have all the chances of quitting it, as soon as you find something else. I had a friend who worked as a pole dancer before becoming an escort. Since she was used to dance only, without having to communicate with the clients or engaging in dates, she could not face the challenges of this job, and quitted only four months after getting hired by an escort agency.
Anyone who wants to become a successful escort must work hard and gain experience in the field. The more you get to know men, the more you become successful. This is how things work, if you really want to become a great escort.
Q: What is your daily schedule like? How often do you work per week?
It depends. As I said, I do not have a predefined schedule, so I work whenever I want. I generally try to be available all the time, because this is how I bring more clients, but if one day I feel tired or sick, I simply don't work, as I have no boss or escort agency to make me do something I don't want to.
Q: Describe the best and the worst call girl experience.
It's kind of difficult to describe the best call girl experience, as I try hard to turn each of my meetings into a perfect one. However, I remember an old client who used to be a regular a couple of years ago; he was a real gentleman! Every time we met, he brought me lots of presents, from sweets to jewelries, and made me feel like a princess around him. He was my best client! Now he lives far away and he cannot visit me anymore, unfortunately, but we sometimes talk on the phone.
My worst call-girl experience ended up in disaster. The guy wanted to fuck me so bad that literally jumped all over me! He unzipped his pants and put his cock in my mouth, by force. The next moment, I bit his manhood and ran away.
Q: Do you have a list with regular clients? If so, do you see them more often than you see new clients?
Sure I do! I think everyone has one! I have around 5 generous gentlemen who always do their best to visit me as often as possible. I prefer dating them more than dating new guys, because once you see your client for the second time, a certain connection is created and…everything comes more naturally. It's not that I am stressed with the new clients, but seeing them for the first time means starting to know them and trying to understand their gestures, intentions or expectations from the meeting.
Q: Have you ever fallen in love with one of your clients? Have you ever been jealous of your regular clients or felt 'cheated'? If so, what did you do?
No! I have never fallen in love with one of my clients, because this is something no escort should do! Most men are deceitful lying creatures; they will promise you the moon, and the stars, and infinite kingdoms ruled by happiness and joy, and then leave you without even saying good-bye. Each escort should be very careful, because this field can be really dangerous if you cannot control your own emotions.
Q: What do you prefer: incall or outcall services?
I don't know what to say. I think I prefer them both. The person I date is more important than the place.
Q: What sort of client do you want to see again?
The qualities I appreciate the most in a man are generosity and respect! If a man is not generous, does not take care of my needs and does not respect me for being a woman, I will never want to see him again. What I hate the most are rich rude guys who think the world belongs to them, and everyone else should be at their feet. Modest clients are also the men I definitely want to see again!
Q: Where do you see yourself in 10 years?
I would rather not to ask this question, simply because I believe life is unpredictable. Today I might be a Glasgow independent escort, tomorrow I might be a respectful lawyer or a house cleaner! You can never know what life will bring.