Dundee's Pubs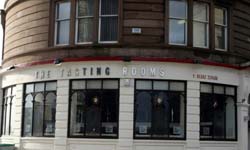 The Tasting Rooms (2 Whitehall Crescent Dundee, Angus DD1 4AU / +44 1382 224188)
Situated in the heart of Dundee, The Tasting Rooms definitely worths to be visited. With great chefs and seasonal food, the Tasting Rooms is divided into three classy rooms to suit each and every of its clients' needs and expectations. Here you will always find a wide choice of drinks and music. The elegance of the place and the amazing cuisine make this pub to be an unforgettable one for many of its visitors. 'The Tasting rooms' is available for private parties, so do not hesitate to come here.
Reviews:
• I don't like the fact that they don't have steak knives, I cannot understand why. I don't really like the place - Anonymous
• Friendly stuff, friendly decor and good food for little money - Anonymous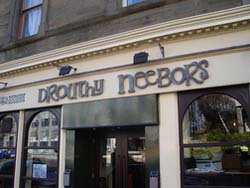 Drouthy Neebors (142 -146 Perth Rd, Dundee, Angus DD1 4JW / +44 1382 202187)
Do you like jazz, rock or dance music? Drouthy Neebors has it all. Among the most popular pubs in Dundee, this pub offers a variety of drinks, coffees and teas. Gather all your friends here to spend some quality time and flavor a nice bottle of wine. One of the reasons why Drouthy Neebors attracts a good share of locals is because of its rich beer culture and its famous music nights. You name it, Drouthy Neebors has it!
Reviews:
• I must confess I did not enjoy this place too much. Why? Simply because the waitress didn't take notes while we ordered and had to come back twice to ask us again about the order. In my opinion this is not normal! However, she must have been new because I used to be a regular customer and I never saw her until then. Besides this minus, I give a plus to the food and to the decor
• I ordered something and they brought me something else. I am a little confused, this never happened to me before. However, the stuff is friendly and the atmosphere is nice, so it's worth going here - Scott Jessiman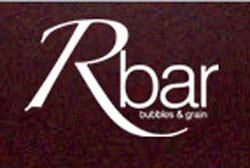 Rbar (9 Pilmore Links, St Andrews, Fife KY16 9JQ / +44 1334 472549)
Rbar is without doubt a pub not to be missed in Dundee. If you want a classy, elegant and sophisticated bar come to Rbar and you will not be disappointed. Ideal for a relaxing afternoon, this champagne and whisky bar is specially designed for those with a sublime sense of aesthetics. Not without reason this pub offers high quality services at reasonable prices. This is that kind of pub that any visitor must visit when in Dundee.
Reviews:
• Whoever loves champagnes, fine wines, whiskies and cocktails should visit this place. The pub is very luxurious; when I first came here I was very impressed with the d'cor. I highly recommend it!!!! - Sophie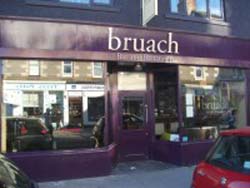 Bruach Bar (326 Brook St, Broughty Ferry, Dundee, Angus DD5 2AN / +44 1382 739878)
Located in a stylish area, the Bruach Bar's menu includes traditional Scottish food and seasonal recipe ideas that will make your day. In fact, it is one of the most famous pubs in this area for many reasons. It attracts its clients through the diversified menu, its calendar events and perfect parties. The Bruach Bar has a great reputation in Dundee, for its stylish decorations, friendly staff and the worldwide cookery.
Reviews:
• They have good and cheap food, the cocktails are delicious - Anonymous
• I like this place a lot! - Anne
• A good restaurant with good deals. Great value for money and nice atmosphere - Geo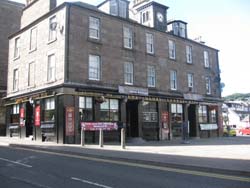 The Globe Bar (53 W Port, Dundee DD1 5ER / +44 1382 224712)
Flavorsome food, great drinks and excellent environment, you can find them all here! With its modern look and comfortable seats, this place offers a vibrant deep feeling that every customer belongs here. If this is not enough for you, the handy location and the brilliant sight may convince you of its numerous advantages. To continue, the Globe Bar has the reputation as being the meeting point for people of all ages, therefore you will feel great here irrespective of your age, sex or social class.
Reviews:
• Good value for money and wonderful choices for drinks. I go there regularly - Simon
• I like the location and the friendly atmosphere, I will definitely go back when I return to Dundee - Billy Joe
• It's clean, friendly, nice and cheap! What else do you want??? - Stew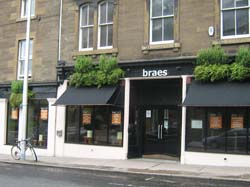 Braes (14-18 Perth Rd, Dundee, Angus DD1 4LN / +44 1382 226344)
Brae is a modern looking bar, situated in the heart of the Dundee. The beer choice is impressive and the quality of the coffees shocks anyone who enters this pub's door. In an area full of famous tourist attractions, you can enjoy a relaxing drinking break or a great night out with your friends. Some of the extra services provided here include Free WI-Fi, great value menu and plasma TVs. If you have never visited this place, try it!
Reviews:
• I always feel very good here. This pub is the only place where I feel great drinking some whisky and spending time with friends - Moe
• What I most like about this pub is how they prepare the coffee. I don't know what they put in it, but nowhere in Dundee can you find such a flavor coffee like in Braes. I simply love drinking my coffee in the morning in this wonderful place - Sarah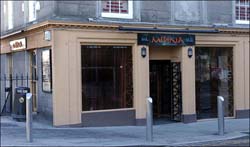 Medina Bar & Grill (113 Nethergate, Dundee, Angus DD1 4DH / +44 1382 201500)
This pub is ideal for family gatherings or just a relaxing night out with your lover. Due to its freshly cooked food and great drinks, this is one of the best pubs in town. Medina Bar & Grill is an outstanding place where traditional values are still conserved and appreciated. Therefore, if you want to taste some of its authentic wines at reasonable prices, you should come and see it for yourself. Here you will find everything you need! Try it!
Reviews:
• Nice palettes of drinks, friendly stuff - Dan
• Helpful stuff, the girls working here are stunningly beautiful! - Simon
• Quick services, I like the palette of drinks and also of food. This is a great place to go