Inverness's Hotels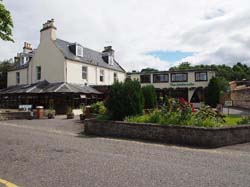 The Waterside (3 stars) - 19 Ness Bank, Inverness, Inverness-Shire IV2 4SF / +44 1463 233065
Looking for a place to stay? The best hotel in town is The Waterside! Do you fancy a tidy place with clean rooms and a refreshing atmosphere? Here you can find the good vibe you need, the perfect place for your holiday, or just a pleasant accommodation at the right price for you. Situated close to the city center, The Waterside is within easy access to public transportation.
Reviews:
• A cheap hotel with good services - Dan
• The location is fabulous, close to the river Ness, and the food was delicious. When I return to Inverness I'll definitely stay here again - Rudy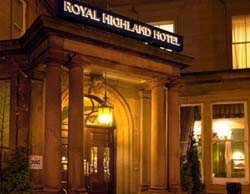 The Royal Highland Hotel (3 stars) - 18 Academy St Inverness Highland IV1 1LG / +44 1463 231926
The Royal Highland Hotel is one of the most famous hotels in Scotland! Why is that? Well the answer is really easy! Great promotions, major discounts, cocktails at your arrival, clean rooms and extremely friendly staff create the perfect ambience for you to feel extraordinary here. Moreover, the hotel provides luxurious meals; expensive wines, free Wi-Fi, and most importantly you have easy access to train or airport. Book a room now!
Reviews:
• A first class hotel, excellent services! - Paul
• Clean, inexpensive, in one word excellent. A plus for the quick check-in - Stewart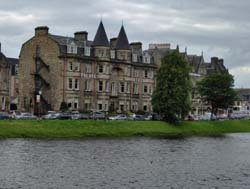 Best Western Inverness Palace Hotel & Spa (3 stars) - 8 Ness Walk Inverness Inverness-Shire IV3 5NG / +44 1463 223243
Do you have a business meeting in Inverness, a weekend break, a holiday or just some relaxing days? Book a room at the Best Western Inverness Palace Hotel & Spa and you will have no reason to regret it. Situated close to several shops and tourist attractions, this charming hotel is one of the most famous ones in Inverness. Not only that the rooms are impressive, and you can have a good night's sleep, but also the leisure club and spa are the dazzling change you need in this hectic life!
Reviews:
• A fabulous hotel with great decor and nice people. I highly recommend it - John
• Great services, friendly atmosphere. Not too noisy, not too expensive, just perfect! - Daniel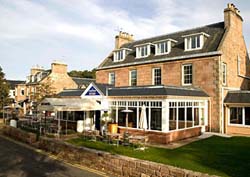 Glenmoriston Town House (4 stars) - 20 Ness Bank Inverness Inverness-Shire IV2 4SF / +44 1463 223777
The location of this hotel is hard to beat. Situated on the banks of the Ness River, just 20 minutes drive away from the Inverness Airport, 10 minutes walk from the rail station and very close to the city center, this four star hotel offers both comfort and relaxation for its clients. The staff here do their best from the minute you enter the door and therefore, it is one of the best hotels in Inverness. Many of its clients choose to come back when in Inverness. Try it too!
Reviews:
• Very clean, comfortable beds and well-decorated rooms. I enjoyed staying here with my girlfriend - Ronnie
• Excellent hotel, very beautiful rooms, large and clean, comfortable beds, friendly stuff and good food! - Billy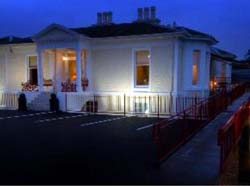 Rocpool Reserve Hotel (5 stars) - Culduthel Rd Inverness, Inverness-Shire IV2 4AG / +44 1463 240089
Style, comfort, elegance, this hotel has them all. The Rocpool Reserve Hotel provides quality services, fresh food, flat-screen TV's, DVD/CD players, and even coffee and tea machines in each room. This luxurious hotel is situated in the heart of Inverness, within a few minutes walk away from the Inverness Castle and the High Street. Moreover, this hotel has won several awards including 'The most excellent UK City Hotel' which says many things about the level of the client service. Not to be missed!
Reviews:
• Definitely the best hotel in Inverness. Worth every star - Mr. Oland
• The cleanest hotel, the highest standards, the most professional and friendly stuff. I can only say I was impressed with this hotel, even if I've only stayed for 2 nights. Everyone should come here - Barbara
• I highly recommend this hotel, everything is perfect! - Inna